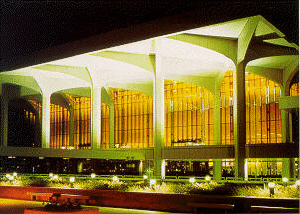 King Fahd
International Airport
---
---
Coat of arms
of Saudi Arabia
---

Saudi Royals
---

Latest design
---

George Bush and
Prince Abdallah
hold hands
---

Saudi State
visit at the
White House
---
Princess Sultana´s
Circle
---
O

N

A

-

C

R

E

W


NEW YEAR 1975 WITH ONA!
---
MAGGIE LLOYD ZEIBAK
---

Bob Ferdinando as Father Tyme
---

The flag went missing and
reappears as Jane Gregory!!
---
---

Peggy Durst, Bill and Jane Gregory
---
NEW YEAR 1975 JEDDAH SAUDI

Christmas 1975 and New Year 1976 
were spent in Jeddah during the 
Haj operation. Crews were 
accommodated on a Greek ship - 
the Galaxy - anchored in the 
Red Sea.
 
As part of the festivities, 
Bob Ferdinando (LGW Rep.) 
dressed as Father Tyme and 
ushered in a large box, 
from which emerged F/A Jane 
Gregory wrapped in the ONA 
flag. Mysteriously, the flag 
had gone missing a couple of 
days prior, much to the 
consternation of the ship's 
Captain. Bill Gregory - pilot, 
made a grand entrance as the 
New Year's Baby. I'm sure 
there must have been some 
siddiki involved!
M/S Galaxy.
---

Dara Young, Bill and Jane Gregory
---
---
---
---
---
---