Y

O

T

E

M

A

T

E

K

U

D

A

S

A

I


PAUL STARK
The Tokyo Emperor Park
Chopping Experience
by Stark & Parks
---
When abroad make the most of your stay,
seize the opportunity to get to know the
people´s country you´re staying in, find
out about their traditions and social
order structure .....
well, that´s exactly what
Paul and Bill did in Tokyo, you bet!
Read the thrilling story only at
ONA Crew Web!
---
Imperial Palace Tokyo
---
NATIONAL POLICE AGENCY, JAPAN
---
BROOKLYN BOTANIC GARDEN
Sakura Matsuri
(Cherry Blossom Festival)
Saturday, April 28, and Sunday,
April 29, 2007, Noon–6 p.m
---
---
---
---
Chop your own Christmas Tree!
BILL PARKS
---
---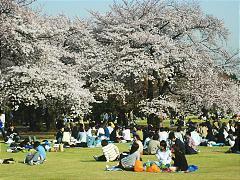 Cherry blossom viewing
in Japan
---

Walking harvester
---
Cherry Pie

INGREDIENTS
Pastry dough
2 cups all-purpose flour
3/4 teaspoon salt
2/3 cup shortening
6 tablespoons cold water


DIRECTIONS
In a bowl, combine flour and salt; 
cut in shortening until crumbly. 
Gradually add water, tossing with a 
fork until dough forms a ball. 
Divide dough in half so one ball 
is slightly larger than the other. 
Roll out the larger ball to fit a 
9-in. or 10-in. pie plate. Transfer 
pastry to pie plate. Trim pastry 
with even with edge of plate. Pour 
desired filling into crust. 
Roll out second ball; cut slits in 
pastry. Position over filling. 
Trim pastry to 1 in. beyond edge 
of pie plate. Fold top crust over 
bottom crust. Flute edges. 
Bake according to recipe directions. 

FILLING
4 tablespoons quick-cooking
tapioca
1/8 teaspoon salt
1 cup white sugar
4 cups pitted cherries
1/4 teaspoon almond extract
1/2 teaspoon vanilla extract
1 1/2 tablespoons butter

DIRECTIONS

Preheat oven to 400 degrees F (205 degrees C).
 Place bottom crust in piepan. Set top crust 
aside, covered. In a large mixing bowl combine
 tapioca, salt, sugar, cherries and extracts.
Let stand 15 minutes. Turn out into bottom 
crust and dot with butter. Cover with top 
crust, flute edges and cut vents in top. 
Place pie on a foil lined cookie sheet --- 
in case of drips! 
Bake for 50 minutes in the preheated oven, 
until golden brown. 
---
O

N

A

-

C

R

E

W

-

S

A

Y

O

N

A

R

A